Bog Flicks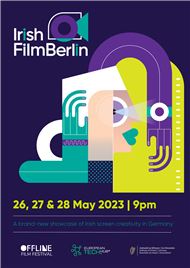 Vorstellung am 27.05.2023
Infos
Irland 2022
Sprachen(OF): englisch, irish gaelic
86 min
Zur Website des Filmes
IMDb (english)
A showcase of Irish screen creativity in Germany
A unique programme of shorts and documentaries with a strong common theme: the bogs of Ireland.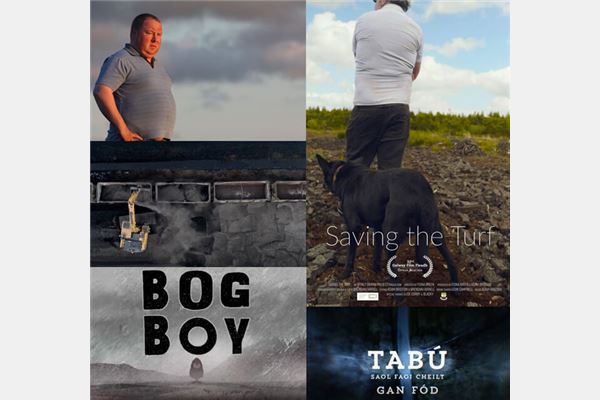 Saving the Turf
Fiona Breen
17 mins
Ireland's bogs have been around since the last ice age providing people with fuel and jobs. Saving the Turf pays homage to a rapidly disappearing way of life while highlighting the need for greater social and environmental responsibility.
Bogman
Garret Daly
14 mins
Bogman is a tale set in the Irish midlands about a quiet man whose lonely existence takes a mysterious turn, when he uncovers something while out footing turf.
Bog Boy
Jack O'Shea
2 mins
The misadventures of a young boy in his attempts to sell his cow around the world. A Bogboy Production in association with Eat The Danger. Produced under the RTÉ Animated Shorts Scheme 2017.
Gan Fód (Without a Sod of Turf)
Ann Ní Chiobháin
53 mins
Gan Fód is a documentary that tells the story of a changing Ireland and of our unique relationship with the bog. The film asks what matters more, people and jobs or sustainability and the environment? Produced for TG4 by Midas Productions.
_______________________________
Irish Film Berlin will be an exciting showcase of Irish screen creativity taking place on 26, 27 and 28 May at Berlin´s arthouse cinema, ACUDkino.
Irish Film Berlin will bring a group of Irish filmmakers to Berlin - to showcase their films in a specially-curated festival. The curator of the festival is OFFline Film Festival. OFFline - based in Birr in the heartlands of Ireland – has been bringing cultural cinema to Irish audiences since 2010.
The Berlin festival screenings will this year have a "Made in Midlands" theme and will feature hand-picked award-winning films distilled from past festivals including: FilmOffaly bursary films, Screen Ireland-funded shorts, and OFFline Animation Residency shorts as well as some independent productions - all created since OFFline's inception in 2010.
Gary Hoctor is Festival Director of OFFline:
"We are delighted to reintroduce an Irish film festival to Berlin following in the footsteps of the long running Shebeen Flick Irish film festival which ended in 2018. Our "Made in Midlands" programme is made up of short films, features, live-action and animation, either made by Offaly filmmakers or made in the Midlands. The opportunity to give a new and wider platform to these films was one we were pleased to embrace."
"A return visit by Berlin filmmakers to Ireland is anticipated for October, with a special programme of German films to be shown at OFFline Film Festival 2023 in Birr."
Irish Film Berlin is the initiative of Denis Madden, director of European Tech Hub Network, based in Birr and Berlin. A supporter of stronger Irish-German cultural and business relationships, Denis is keen to bring the film talent of the Irish midlands to his Berlin base and vice versa.
Denis Madden, Festival Promoter:
"With the huge focus on and success of the Irish film industry this year, and no regular screenings of Irish films in Berlin, it feels like the perfect time to re-establish a showcase festival. Irish and German filmmakers will get to meet their counterparts where the seeds of future collaborations will find fertile ground."
"While our first event will have a "Made In Midlands" programme focus, plans for future events will reflect the wider Irish film catalogue and we will hold events in other German cities. An additional objective this year is also to build a sustainable festival team of film lovers and filmmakers to support film events and industry connections in future years. In a nutshell though, this year is about bringing great festival films from Birr to Berlin, and Berlin films to Birr."
Irish Film Berlin is a collaboration between European Tech Hub and OFFline Film Festival and is kindly supported by the Irish Embassy Berlin and other private sponsors.
The full programme for Irish Film Berlin will be announced on Friday 21 April.
For more information; visit http://irishfilmberlin.ie/