Festival Pearls: Animus Animalis (a story about People, Animals and Things)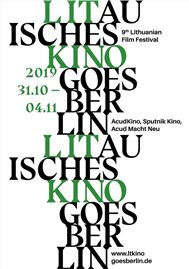 Vorstellung am 02.11.2019
Infos
Litauen 2017
Sprache(OF): litauisch
Regie: Aiste Zegulyte
Drehbuch: Aiste Zegulyte, Titas Laucius
69 min
Zur Website des Filmes
Trailer ansehen
IMDb (english)
Litauisches Kino goes Berlin - Festival
Ein Tierpräparator, ein Wildzüchter und ein Mitarbeiter eines zoologischen Museums leben in einem Umfeld, in dem die Grenzen zwischen dem Realen und dem Künstlichen nur noch schwer auszumachen sind.
Während die wilden Tiere miteinander konkurrieren, wer von ihnen die lebensechteste Pose und den lebendigsten Blick hat, versucht der Mensch, die Zeit anzuhalten und Leben dorthin zurückzubringen, wo keins mehr ist.

Awards:
Vilnius IFF 2019, Cineuropa Prize
Brussels IFF 2019, Grand Prix
Dokumentarfilm
Rechte/Kontakt: Meno avilys, giedre@menoavilys.com
Tickets 7,5 € (6,5 € reduziert)
---
Plot: 3 Lithuanian taxidermists prepare their exhibits for the upcoming European Taxidermy Competition. They peel the animal fur, separate the boiling meat from bones, clean them up and completely deconstruct the animal skeleton to restore the live beast posture as accurate, as possible. Master Kestutis, affected by existential crisis, Vasilijus, living in a memory of his glorious past, and Darius, pressed by professional competition between him and his wife, plan to rent the vehicle in order to reach Finland, where the taxidermist competition takes place. This is a film about the people who are not afraid to turn into beasts and the beasts that slowly turn into things, grounded by the idea about the restored life, which does not exist anymore.