Berlin Short Encounters: Persona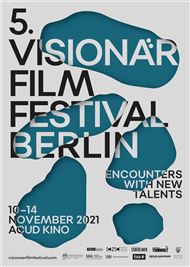 Vorstellung am 13.11.2021
Infos
2019
89 min
Zur Website des Filmes
5. Visionär Film Festival Berlin – Encounters With New Talents
* AIVA by Veneta Androva, Germany, Bulgaria, 2020, 13'
[EN]Aiva is in her mid-thirties, young and beautiful. She is also unbelievably creative.
This female AI artist, that was designed by a cis-male engineering team, has the task of contributing more diversity to the art world and offering a female perspective.
BIO
Veneta Androva graduated in Fine Arts from Weißensee Academy of Art Berlin and also obtained a degree in History of Art and Philosophy from Humboldt University Berlin. In her work she is combining diverse media and sources such as archival, documentary or computer generated material and paintings, all related through animation in simulated environments. She took part in numerous shows in Germany and Bulgaria, as well as Austria, Argentina, Brazil, Poland, Czech Republic, Spain and in Israel, where she did part of her study at the Bezalel Academy of Arts and Design in 2016-2017.
Androva is also the recipient of several scholarships, such as Elsa-Neumann-Scholarship, Artist Scholarship from Cusanuswerk, Mart Stam Scholarship and was nominated in 2020 with her work 'From My Desert' for the German Short Film Award. Recently she received Prix Ars Electronica 2021 – Award of Distinction for her film 'AIVA' in category 'Computer Animation', as well as Golden Horseman for Animated Film and LUCA Gender Diversity Award at Filmfest Dresden. Her films have been selected to screen at numerous international film festivals, including: International Leipzig Festival for Documentary and Animated Film; MONSTRA Lisbon Animated Film Festival; FILE Electronic Language International Festival; European Media Art Festival (EMAF); Kassel Documentary Film and Video Festival.
[DE] AIVA von Veneta Androva, Deutschland, Bulgarien, 2020, 13'
Aiva ist Mitte dreißig, jung und schön. Und sie ist unglaublich kreativ.
Diese KI-Künstlerin, die von einem cis-männlichen Ingenieursteam entworfen wurde,
soll zu mehr Vielfalt in der Kunstwelt beitragen und eine weibliche Perspektive bieten.
BIO
Veneta Androva absolvierte Freie Kunst an der Kunsthochschule Weißensee in Berlin, sowie Kunstgeschichte und Philosophie an der Humboldt-Universität zu Berlin. Sie kombiniert in ihrer künstlerischen Praxis verschiedene Medien und Quellen wie Archiv- und Dokumentarmaterial mit Malerei, die durch 3D-Animationen und computersimulierte Umgebungen miteinander verbunden sind. Sie hat an zahlreichen Ausstellungen in Deutschland und Bulgarien sowie in Österreich, Argentinien, Brasilien, Spanien, Polen, der Tschechischen Republik und in Israel teilgenommen, wo sie 2016-2017 einen Teil ihres Studiums der Freien Kunst an der Bezalel Academy of Arts and Design in Jerusalem absolvierte.
Androva erhielt außerdem mehrerer Stipendien, wie Elsa-Neumann-Stipendium, Künstlerförderung Cusanuswerk, Mart Stam Stipendium und wurde 2020 mit ihrer Arbeit "From My Desert" für den Deutschen Kurzfilmpreis nominiert. Ihr letzter Film "AIVA" gewann den Prix Ars Electronica 2021 in der Kategorie Computeranimation sowie den Goldenen Reiter und den LUCA Gender Diversity Award im internationalen Wettbewerb des Filmfest Dresden. Ihre Filme wurden ausgewählt und auf zahlreichen internationalen Filmfestivals präsentiert, darunter: Internationales Leipziger Festival für Dokumentar- und Animationsfilm, Deutschland, Go Short International Short Film Festival Nijmegen, Niederlande, FILE Electronic Language International Festival, Brasilien, European Media Art Festival (EMAF), Deutschland.
_________
[EN] Gran Central Hotel by Serge Garcia, USA, Germany, 2020, 23'
Grand Central Hotel is a ruminative portrait about the iconoclastic American composer, writer, transgender activist, and avant-garde sound collagist Terre Thaemlitz (better known by her moniker DJ Sprinkles). She remains hidden as one of the most influential artists in electronic music of the last 20 years. The film follows Terre as she arrives at a nondescript hotel for a night and maps for viewers her conflict with gender and identity constructs, her frustration as an aging MTF trans person, and a brazen twist that becomes a radical gesture and astute political statement. The film reveals a rare shrewdness and a solitary struggle for autonomy and it's precarious shifts.
Biofilmography:      
Serge Garcia is a filmmaker with a penchant for aimlessly wandering. His films emphasize intersectional narratives that explore loneliness, alienation, and possibilities for agency. He's developed a body of work through music videos, underground documentaries and narrative shorts. He uses family, culture, social histories, and his own experience as a first generation Mexican-Guatemalan-American. Born in Los Angeles and raised in the San Francisco Bay Area he is now based in Berlin, Germany
[DE] Gran Central Hotel von Serge Garcia, USA, Deutschland, 2020, 23'
Grand Central Hotel ist ein nachdenkliches Porträt über die ikonoklastische amerikanische Komponistin, Schriftstellerin, Transgender-Aktivistin und Avantgarde-Soundcollagistin Terre Thaemlitz (besser bekannt unter ihrem Spitznamen DJ Sprinkles). Sie bleibt als eine der einflussreichsten Künstler*innen der elektronischen Musik der letzten 20 Jahre im Verborgenen. Der Film folgt Terre bei ihrer Ankunft in einem unscheinbaren Hotel, um für eine Nacht zu bleiben und zeigt den Zuschauer*innen ihren Kampf mit Geschlechter- und Identitätskonstruktionen, ihre Frustration als alternde MTF-Trans-Person und eine unverschämte Wendung, die zu einer radikalen Geste und einem klugen politischen Statement wird. Der Film offenbart seltenen Scharfsinn und einen einsamen Kampf für Autonomie sowie deren prekäre Verschiebungen.
BIO
Serge Garcia ist ein Filmemacher mit einer Vorliebe für zielloses Umherstreifen. Seine Filme legen den Schwerpunkt auf intersektionale Erzählungen, die Einsamkeit, Entfremdung und Möglichkeiten der Selbstbestimmung erkunden. Sein Werk besteht aus Musikvideos, Underground-Dokumentationen und narrativen Kurzfilmen. Er greift auf Familie, Kultur, Sozialgeschichte und seine eigenen Erfahrungen als mexikanisch-guatemaltekischer Amerikaner der ersten Generation zurück. Geboren in Los Angeles und aufgewachsen in der San Francisco Bay Area lebt er jetzt in Berlin, Deutschland.
__________________
[EN] When The Androgynous Child (Cuando el niño andrógino) by Melina Pafundi, Germany, Argentina, 2019, 9'
When the child speaks from his or her androgyny – which is neither truth nor appearance, neither male nor female, but all at once – they will return to the places where they have belonged. He or she remembers and claims their identity as a foreigner, refugee, bilingual, rejected for not being a man or woman at all.
BIO
Melina Pafundi (1987) Mar del Plata, Argentina. She studied Film and Video direction, Philosophy and Fine Arts. She has worked as a film archive restorer at the Buenos Aires Film Museum, Pablo C. Ducrós Hicken. Since 2016 lives in Berlin, and she has worked with the director Franz Müller as an Assistant Director and is member of the film laboratory directed by artists LaborBerlin e.V.
[DE] When The Androgynous Child (Cuando el niño andrógino) von Melina Pafundi, Deutschland, Argentinien, 2019, 9'
Wenn das Kind aus seiner Androgynität heraus spricht - die weder Wahrheit noch Schein, weder männlich noch weiblich, sondern alles zugleich ist - kehren sie an die Orte zurück, an die sie gehörten. Er oder sie erinnert sich und fordert ihre Identität als Ausländer*in, Flüchtling, zweisprachig, dafür abgelehnt weder Mann noch Frau zu sein.
BIO
Melina Pafundi (1987) Mar del Plata, Argentinien. Sie studierte Film- und Videoregie, Philosophie und Bildende Kunst. Sie arbeitete als Filmrestauratorin im Filmmuseum von Buenos Aires, Pablo C. Ducrós Hicken. Seit 2016 lebt sie in Berlin, hat für den Regisseur Franz Müller als Regieassistentin gearbeitet und ist Mitglied des von Künstler*innen geleiteten Filmlabors LaborBerlin e.V.
____________________
[EN] Letter to My Mother by Amina Maher, Malaysia, Germany, Iran, 2019, 19'
A heartfelt letter to tell the mother the most painful of secrets. Amina, who in 2002 was the small protagonist of Ten by Kiarostami is now a transgender director who tries to make her voice heard, understood, and be understood.
BIO:
Amina Maher (b. Tehran, 1992) is an Iranian queer filmmaker whose works deal with themes of social taboos and gender-identity in relation to violence and power structure. She began her cinematic activity as the main protagonist in Abbas Kiarostami's "Ten" which featured the real-life relationship between Amina and her mother. Her first short film was Sweet Gin and Cold Wine, followed by Orange. Her multi-awarded short film, Letter to my mother, was part of the competition at numerous international film festivals such as 38th Frauen Film Festival, Feminale, 36th Kasseler Dokfest, 35th Lovers Film Festival, 34th Mix Milano Film Festival and 26th Cheries Cheris, LGBTQIA+ Film Festival, Paris. Among numerous reviews, the film was described as a means for survival, a way to stand up and to understand – a fearless and strong examination that touches upon the centre of the pain and dares to look precisely. Amina currently studies her MA in directing at Babelsberg University Konrad Wolf.
[DE] Letter to My Mother von Amina Maher, Malaysia, Deutschland, Iran, 2019, 19'
Ein herzlicher Brief an die Mutter, um ihr das schmerzlichste aller Geheimnisse zu erzählen. Amina, die 2002 der kleine Hauptdarsteller in dem Film Ten von Kiarostami war, ist heute eine Transgender-Regisseurin, die versucht, ihrer Stimme Gehör zu verleihen, zu verstehen und verstanden zu werden.
BIO:
Amina Maher (geb. 1992 in Teheran) ist eine iranische queere Filmemacherin, die sich in ihren Werken mit Themen wie gesellschaftlichen Tabus und Geschlechteridentität in Verbindung mit Gewalt und Machtstrukturen auseinandersetzt. Ihre filmische Tätigkeit begann sie als Hauptdarstellerin in Abbas Kiarostamis "Ten", der die reale Beziehung zwischen Amina und ihrer Mutter thematisierte. Ihr erster Kurzfilm war Sweet Gin and Cold Wine, gefolgt von Orange. Ihr mehrfach ausgezeichneter Kurzfilm Letter to my mother wurde im Wettbewerb zahlreicher internationaler Filmfestivals gezeigt, darunter das 38. Internationale Frauenfilmfestival, das 36. Kasseler Dokfest, das 35. Lovers Film Festival, das 34. Mix Milano Film Festival und das 26. Cheries Cheris LGBTQIA+ Film Festival Paris. In zahlreichen Kritiken wurde der Film als ein Instrument zum Überleben, ein Weg zum Aufstehen und Verstehen beschrieben - eine furchtlose und starke Betrachtung, die das Innerste des Schmerzes anrührt und einen genauen Blick wagt. Amina studiert derzeit ihren Master in Regie an der Filmuniversität Babelsberg Konrad Wolf.
__________________
[EN] Should we all be feminists? by Silke Meya, Germany, UK, 2021, 24'30''
"Should we all be feminists?" looks at different Women's cultural, social, religious and political perspectives on role models and modern feminism in Berlin.
The documentary is based on contrasting women's perspectives meanwhile talking about kindness, respect,
empowerment and equality in their personal life. The main goal was to dig deep and find the right balance between sorrow and happiness, while respectfully capturing each story through an intimate cinematography.
"Should we all be feminists?" is a shocking, moving and admirable glimpse into each protagonist's lived reality.
BIO
Silke Meya was born in 1989, in Bielefeld/ Germany. From 2010 to 2014 motion design she studied at Berliner Technischen Kunsthochschule (BTK). During this time she made the documentary "Leni" (2012) and finally her graduation film "Djado Ivan" (2015), which premiered in Germany at the 49th Hof International Film Festival. Her work as director on "Djado Ivan" showed Silke her love for storytelling and supported her decision to make her first feature doc-fiction film "Mojsłońik".
In 2015 she founded the film production company "Noumia Film" with Laura Mentgen in Berlin. At the moment she is working on a new feature documentary film and she is writing a crime series (9 episodes, à 45 min.).
[DE] Should we all be feminists? von Silke Meya, Deutschland, Großbritannien, 2021, 24'30''
"Should we all be feminists?" zeigt unterschiedliche kulturelle, soziale, religiöse und politische Perspektiven auf Rollenmodelle und modernem Feminismus in Berlin.
Der Dokumentarfilm basiert auf kontrastierenden Betrachtungsweisen von Frauen, während sie über Respekt, Empowerment und Gleichberechtigung in ihrem persönlichen Leben sprechen. Das Hauptziel war es eine emotionale Nähe zu den Protagonistinnen herzustellen und die richtige Balance zwischen Trauer und Glück zu finden, während jede Geschichte durch eine intime Kameraführung respektvoll festgehalten wurde.
"Should we all be feminists?" ist ein schockierender, bewegender und bewundernswerter Einblick in die Lebenswirklichkeit der Protagonistinnen.
Biografie:
Silke Meya geboren 1989, in Bielefeld/ Deutschland. Von 2010 bis 2014 Motion Design Studium an der Berliner Technischen Kunsthochschule (BTK). In dieser Zeit realisiert sie den Dokumentarfilm ,,Leni" (2012) und schließlich ihren Abschlussfilm ,,Djado Ivan" (2015), welcher auf den 49. Internationalen Hofer Filmtagen seine Deutschland Premiere feierte. Die Arbeit an "Djado Ivan" zeigte Silke ihre Liebe zum Geschichten erzählen und unterstütze ihre Entscheidung ihren ersten dokumentarischen Spielfilm "Mojsłońik" zu drehen.
2015 gründete sie die Filmproduktionsfirma "Noumia Film" mit Laura Mentgen, in Berlin. Zur Zeit arbeitet sie an ihrem neuen Dokumentarfilm und sie schreibt an einer Crime Serie (9 Episoden, à 45 min.).