A United Kingdom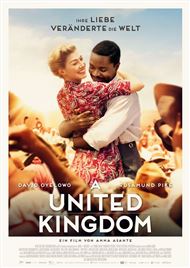 Infos
Tschechische Republik, USA 2016
Sprachen(OF): englisch, tswana
Regie: Amma Asante
Drehbuch: Guy Hibbert, Susan Williams
Darsteller: David Oyelowo, Jack Davenport, Rosamund Pike, Tom Felton
111 min
FSK 6
Zur Website des Filmes
Trailer ansehen
IMDb (english)
britfilms #11 - British School Film Festival
Eine große Unruhe macht sich breit, als der botswanische Prinz Seretse Khama Ende der 1940er von einer Reise nach England zurückkehrt.
Grund ist die Britin Ruth Williams, mit der der Prinz Hochzeitspläne schmiedet.
Unter schweren Protesten der botswanischen und britischen Obrigkeiten kämpfen die Beiden für Unabhängigkeit und ihr Recht auf Liebe.
---
Plot: In the late 1940s, Prince Seretse Khama of Bechuanaland is studying law in Britain in preparation for his eventual ascension to the throne. There, the dashing prince falls in love with a white British clerk, Ruth Williams, and they plan to marry. While they suspect that his uncle, the Regent, would disapprove, nothing prepares them for the diplomatic firestorm and domestic political tumult their defiant love would spark. Now facing a citizenry leery of a white Briton as their Queen, the international opposition is even more unyielding from the British holding their land as a protectorate and fearful of South Africa's racist backlash to this affront to their apartheid domination. Against all odds, King Khama and Ruth must struggle to maintain their love and help their people in a land that would become the Republic of Botswana.