All times now nothing + Robert Sieg. Alternative Broadcast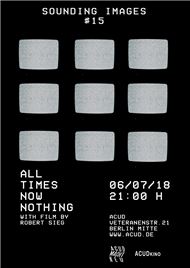 Vorstellungen vom 01.01.2010 bis zum 06.07.2018.
Infos
2018
Zur Website des Filmes
Sounding Images #15 präsentiert
Expanded cinema manipulative live TV and radio
We live in a world where there is more and more information, and less and less meaning - Jean Baudrillard
All Times Now Nothing is an ongoing audiovisual project sampling and manipulating found footage in order to collage and reconstruct new meanings. Alternative Broadcast is their expanded-cinema performance manipulating multiple live broadcasted TV and radio signals. This improvised performance taps into the signals that surround us, finding meaning in the mundane and composing melancholic meditations on modernity. Through live abstracting the electronic sound and image, this form of expanded-cinema links the signals to synesthesia, reconstructing disposable media into a state of immersive hypnosis. Where the blends of these signals may sometimes create a cacophony of noise and nonsense, there always remains the chance to see clarity and depth of meaning that may have been totally invisible through their regular consumption.
+ THINGS GO WRONG VERY SLOWLY UNTIL THEY GO VERY WRONG VERY FAST by Robert Sieg
"A nice little film to make you feel good and aware of your own body within global capitalism. Because for all the products global capitalism might produce, they all just remain props to producing subjects."
www.robertsieg.com
//
ALL TIMES NOT NOTHING
… is an audiovisual collaboration between Fred Brooks and Cliona Ni Laoi. Fred Brooks is a composer and producer, curating audiovisual exhibitions in Berlin. Cliona Ni Laoi is an interdisciplinary media artist with a focus on experimental film and live interactive audiovisual installations.
www.alltimesnownothing.com
//
All Times Now Nothing: Alternative Broadcast is realized in cooperation with ACUD MACHT NEU and ACUD Kino, and will take place in the cinema space on the 3rd floor.
//
The series Sounding Images focuses on different approaches to documenting and visualizing musical performances, scenes and movements as well as close collaborations between filmmakers and composers, including soundtracks. The aim of it is to open up a wide range of perspectives on the interrelation of music, experimental filmmaking, and video art, including issues regarding race, class, sexuality and gender. Invited guests will discuss selected works and a short introduction to each screening will provide background information, sometimes a Q&A will follow.
Sounding Images is organized by Fiona McGovern.