The war on Journalism: The Case of Julian Assange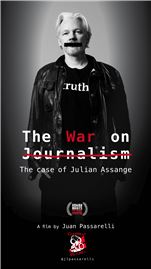 Infos
Großbritannien 2020
Sprache(OF): englisch
Regie: Juan Passarelli
40 min
Freiheit für Julian Assange
Journalists are under attack globally for doing their jobs. Julian Assange is facing a 175 year sentence for publishing if extradited to the United States. The US has gone from denigrating journalists as 'enemies of the people' to now criminalizing common practices in journalism that have long served the public interest. WikiLeaks founder and Editor Julian Assange's extradition is being sought by the Biden administration for publishing US government documents which exposed war crimes and human rights abuses. He is being held in maximum security HMP Belmarsh in London and faces a 175 years sentence if extradited.
There is a war on journalism – Julian Assange is at the centre of that war. If this precedent is set then what happens to Assange can happen to any journalist.
"The Indictment of Julian Assange… is a threat to the press and the American People." – Glenn Greenwald Pulitzer Prize-winning journalist
"What Julian Assange is being targeted for is the same or similar as many journalists have done…it's surprising to me that more people can't see that this case has worrying implications for all journalists" – Alan Rusbridger former editor-in-chief of The Guardian
"Assange is charged with asking for information, with receiving information, and with publishing information. And I don't mind saying that those are exactly the things that I do." – Barton Gellman Pulitzer Prize and Emmy Award-winning journalist
Juan Passarelli
is an award-winning filmmaker and journalist, co-founder of Guerrilla Pictures (@guerrillapix) and Infosec Bytes (@infosec_bytes). With more than a decade of experience in his field, has investigated a range of issues from the South African sex trade and the struggles of political dissidents under the Belarusian dictatorship to the global surveillance state lead by the NSA and the CIA, as well as the UK's GCHQ.
As a long-time Assange confidant who often worked inside the Ecuadoran embassy for years, Passarelli has had the most access to Assange and WikiLeaks and has filmed them for over ten years. He has directed and participated in the production of dozens of documentary films, most recently for the award-winning documentary "The Engineer," about the brutal gang wars in El Salvador. Passarelli has been at the forefront of information security journalism with contributions in films such as Oscar winner "Citizenfour," and and as Producer of the first season of "Infosec Bytes." He has also helped train journalists and members of civil society around the world on how to improve their information and operational security.
Stefania Maurizi:
Is an experienced and award-winning Italian investigative journalist. since 2009 she has worked with Julian Assange, his organisation "WikiLeaks" and large teams of international media on the secret documents about the war in Afghanistan, the Guantanamo detainees, revelations about the European military operation against boats carrying migrants and refugees from Libya to Italy, as well as espionage activities against French and European leaders by the National Security Agency (Nsa). About her profession, she herself says: "I believe in the strength of journalism, which I think only makes sense when it is able to investigate and expose injustice and corruption."