Opening | Kino Sonico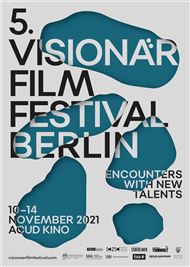 Vorstellung am 10.11.2021
Infos
2021
90 min
Zur Website des Filmes
5. Visionär Film Festival Berlin – Encounters With New Talents
KINO SONICO will anhand von zeitgenössischer experimenteller Musik historische Filme neu interpretieren und neu entdecken. Durch den anachronistischen Ansatz will KINO SONICO neue Verbindungen, Kontrapunkte und Spannungsfelder zu einem intensiven Gesamtwerk verdichten. Akkamiau hat sowohl einen umfassenden Background in experimenteller Musik als auch Erfahrung mit Arbeiten, die filmische Elemente enthalten.
Musidora ist vor allem für ihre Rollen in Stummfilmen bekannt, insbesondere für die Darstellung der mythischen Figur in schwarzen Strumpfhosen, Irma Vep, in Louis Feuillades Seifenoper Les Vampires. Musidora war auch als Regisseurin und Produzentin tätig. Viele ihrer Filme gelten als verloren, aber drei wichtige Werke sind erhalten geblieben: Für Don Carlos; Sonne und Schatten und Land der Stiere. Letzteres wurde vom CNC – Centre national du cinéma et de l'image animée – restauriert.
______________
KINO SONICO aims to reinterpret and rediscover historical films through contemporary experimental music. Through its anachronistic approach, KINO SONICO aims to condense new connections, counterpoints, and areas of tension into an intense body of work. Akkamiau has an extensive background in experimental music as well as experience with works that incorporate cinematic elements.
Musidora is best known for her roles as a silent film actress, particularly for her portrayal of the mythical figure in black tights Irma Vep in Louis Feuillade's soap opera Les Vampires. Musidora was also active as a director and producer. Many of her films are considered lost, but three important works have survived: For Don Carlos – Sun and Shadow – Land of the Bulls. The latter was restored by the CNC – Centre national du cinéma et de l'image animée.
Akkamiau / hiT͟Hərˈto͞o
Audiovisualartist, experimental musician, performer, concept writer, event manager and coordinator, resident in Berlin. As Akkamiau she has performed audiovisual shows since 2006. She has been coordinator of female: pressure network and festival Perspectives Berlin (2013, 2015), multimedia festival Multiplace (2008, 2009), produced and art directed projects L to the B (2010) and Zbrojovka site-specific (2011). In 2012 she co-founded multimedia collective StratoFyzika, for which she created sound compositions inspired by metaphysics (2012-2019). Currently performs as hiT͟Hərˈto͞o live experimental techno, with releases on female:pressure, Decadence recordings, SPRINGSTOFF and Establishment records. As Akkamiau she released EP Interjections [DETUND, 2019] and produced a/v performance Interjections (Liminal Act) in cooperation with collapsetofraction collective. Akkamiau hosted radio shows at Colaboradio (Frei Radio Berlin) and Cashmere radio; she is a booker for Rituals x female:pressure and Circle at Suicide Circus, and regularly DJs on local techno events with focus on the emotional power of sound frequencies, presenting delicate mixture of experimental and dance music.