Oleg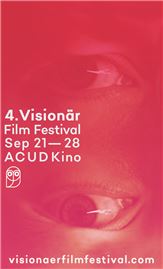 Infos
Österreich, Lettland, Litauen, Belgien, Frankreich 2019
Sprachen(OF): englisch, flämisch, französisch, latvian, polnisch, russisch
Regie: Juris Kursietis
Drehbuch: Juris Kursietis, Kaspars Odins, Liga Celma-Kursiete
Darsteller: Anna Próchniak, Dawid Ogrodnik, Guna Zarina, Valentin Novopolskij
84 min
Zur Website des Filmes
IMDb (english)
4. Visionär Film Festival
German Premiere
𝘏𝘦𝘢𝘳𝘵 𝘰𝘧 𝘋𝘢𝘳𝘬𝘯𝘦𝘴𝘴
After its pass for the Directors' Fortnight in Cannes 2019, the Juris Kursietis film arrives at the Visionär Film Festival.
Oleg is a young Latvian butcher who travels to Brussels in search of a better wage but a series of misfortunes lead him to fall under the influence of a Polish criminal.
The film is visually tremendous and highly expressive since it uses unadulterated hand-held camera work similar to the social realism films by the Dardenne brothers. In that sense, the imagery that Bogumil Godfrejów, director of photography, creates is sublime.
Oleg has a strong script with an array of astonishing supportive characters like Andrezj, a terrifying Polish mobster, Malgosia, his faint-hearted girlfriend, and Zita, a chauvinistic middle-class Belgian woman. Together they represent a universe easy to identify in our society: one with racism, class consciousness, and machismo.
The film's most important gift is its ability to portray social situations with currency and authenticity leaving the audience breathless. Like Conrad's Heart of Darkness, Oleg is a brutal and gritty journey of survival that highlights the sociopolitical impacts of immigration in the European community making it an instant must-watch.
𝑇𝑖𝑐𝑘𝑒𝑡𝑠: 8€ | OV w/ Eng subs. | The venue is barrier-free.