Fracto - Experimental Film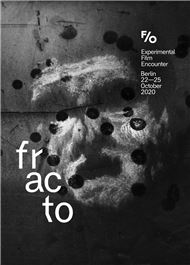 Vorstellungen vom 01.01.2010 bis zum 25.10.2020.
Infos
Zur Website des Filmes
Festival
Fracto Experimental Film Encounter announces its fourth edition and invites the Berlin audience to immerse themselves in 4 days of film screenings, sound installation and talks, taking place at Kunsthaus ACUD in Berlin-Mitte from the 22nd to the 25th of October 2020.
__________________________
Focus
Paolo Gioli, Claudine Eizykman
Analog Screening
The special programme Gioli-Eizkyman will be dedicated to the italian artist Paolo Gioli and the french filmmaker Claudine Eizykman, in a 2-night all analog programme that celebrates cinematic agitation.
Paolo Gioli is one of the most important Italian experimental filmmakers.
He is an internationally renowned painter and photographer, who, in his films, deconstructs and often invents techniques, retracing, reproducing and reinventing the history of cinema and pre-cinema. Under the guise of a multidisciplinary artist, Gioli occupies a unique position in avant-garde cinema.
Claudine Eizykman, who passed away in June 2018, was the co-founder of Paris Films Coop in 1974 and Cinédoc in 1979. She played a key role in the evolution of French experimental cinema in the 70s: the extreme originality and esthetic power of her work is marked by a complexity of the very sophisticated construction of images. Eizykman was also an important film theorist and a great curator. A true re-discovery.
The screenings, talks and concerts will take place at ACUD Cinema, Studio, Club, Gallery and the courtyard.
________________
Selection
The selection will be presented in a series of curated programmes providing diverse and critical perspectives on contemporary media ecology through a wide range of non-narrative approaches to filmmaking: poetic and political reflections on topical issues, sensuous investigations of landscapes and bodies, excavations of personal and collective memories, explorations of the thresholds between human and non-human worlds