Opening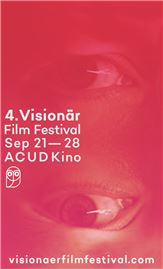 Vorstellung am 21.09.2020
Infos
Zur Website des Filmes
Visionär Film Festival
🌟 𝗩𝗶𝘀𝗶𝗼𝗻𝗮̈𝗿 𝗶𝘀 𝗯𝗮𝗰𝗸 ! 🌟
𝟰. 𝗩𝗶𝘀𝗶𝗼𝗻𝗮̈𝗿 𝗙𝗶𝗹𝗺 𝗙𝗲𝘀𝘁𝗶𝘃𝗮𝗹 𝗕𝗲𝗿𝗹𝗶𝗻 – 𝗘𝗻𝗰𝗼𝘂𝗻𝘁𝗲𝗿𝘀 𝘄𝗶𝘁𝗵 𝗡𝗲𝘄 𝗧𝗮𝗹𝗲𝗻𝘁𝘀 will take you to a journey From Latin America to Latvia through the gaze of new daring directors.
🚀 Ready for the Journey?
💣 The 𝙊𝙥𝙚𝙣𝙞𝙣𝙜 𝙤𝙛 𝙩𝙝𝙚 𝟮𝟬𝟮𝟬 𝙚𝙙𝙞𝙩𝙞𝙤𝙣 will have a
focus on women *
👁 A section of short films made by women* directors from Northern Europe under the name of 𝗣𝗮𝗻𝗼𝗿𝗮𝗺𝗮 𝗡𝗼𝗿𝗱𝗶𝗰 | 𝗙𝗲𝗺𝗮𝗹𝗲* 𝗩𝗼𝗶𝗰𝗲𝘀 will be the special focus of this upcoming edition. This is a curated section which changes every year and intends to draw attention on specific topics, regions and concepts. Countries in focus will be: 𝗙𝗶𝗻𝗹𝗮𝗻𝗱, 𝗜𝗰𝗲𝗹𝗮𝗻𝗱, 𝗟𝗶𝘁𝗵𝘂𝗮𝗻𝗶𝗮, 𝗦𝘄𝗲𝗱𝗲𝗻.
👁👂 As a multidisciplinary event, Visionär will host a film concert under the name of 𝗞𝗶𝗻𝗼 𝗦𝗼𝗻𝗶𝗰𝗼: this is a female project where two well-known female electronic musicians develop new scores for silent films made by a woman pioneering in cinema.
𝗔𝗹𝗶𝗰𝗲 𝗚𝘂𝘆 𝗕𝗹𝗮𝗰𝗵𝗲́'s short films of 1912, 𝘍𝘢𝘭𝘭𝘪𝘯𝘨 𝘓𝘦𝘢𝘷𝘦𝘴 and 𝘔𝘢𝘬𝘪𝘯𝘨 𝘢𝘯 𝘈𝘮𝘦𝘳𝘪𝘤𝘢𝘯 𝘊𝘪𝘵𝘪𝘻𝘦𝘯, will be shown together with a live performance of 𝗠𝗮𝗿𝗶𝗼𝗻 𝗪𝗼̈𝗿𝗹𝗲 𝗮𝗸𝗮 𝗙𝗿𝗮𝘂 𝗪 𝗮𝗻𝗱 𝗟𝗲𝗻𝗮 𝗞𝗼𝗰𝗶𝘀𝗼𝘃𝗮 𝗮𝗸𝗮 𝗔𝗸𝗸𝗮𝗺𝗶𝗮𝘂. Guy-Blaché was a producer, a writer, a casting director, a set designer and the first female film director – for some years the only female director - in cinema history. She began working for France's Gaumont pictures, then moved to the US and founded her own studio, Solax. She made more than 1.000 films. How such a pioneer faded into obscurity has much to do with her gender and with how film history has been written by men. In fact, while her male colleagues were glorified, Guy-Blaché's work was neglected, if not even attributed to the men.
🌈 Visionär believes and respects gender equality and gender inclusivity in its selection. In an industry that doesn't always make it so easy for women*, in a world in which it's still necessary to impose the "pro film quote" in order to assure their presence, Visionär is very proud to contribute support to women.
𝗞𝗶𝗻𝗼 𝗦𝗼𝗻𝗶𝗰𝗼
𝗙𝗮𝗹𝗹𝗶𝗻𝗴 𝗟𝗲𝗮𝘃𝗲𝘀 by Alice Guy Blaché, France, 1912, 12'
Live-score by Lena Kocisova aka Akkamiau
𝗠𝗮𝗸𝗶𝗻𝗴 𝗮𝗻 𝗔𝗺𝗲𝗿𝗶𝗰𝗮𝗻 𝗖𝗶𝘁𝗶𝘇𝗲𝗻 by Alice Guy Blaché, France, 1912, 16'
Live-score by Marion Wörle aka Frau W
𝗣𝗮𝗻𝗼𝗿𝗮𝗺𝗮 𝗡𝗼𝗿𝗱𝗶𝗰 | 𝗙𝗲𝗺𝗮𝗹𝗲* 𝗩𝗼𝗶𝗰𝗲𝘀 ca. 85'
𝗠𝗮𝘁𝗰𝗵 (𝗠𝗮𝘁𝗰𝗵𝗲𝗻) by Pia Andell, Finland, 2018, 15'
𝗧𝗵𝗲 𝗔𝗺𝗯𝗮𝘀𝘀𝗮𝗱𝗼𝗿'𝘀 𝗪𝗶𝗳𝗲 by Theresa Traore Dahlberg, Sweden, 2018, 17'
𝗧𝘄𝗲𝗲𝗻𝗲𝗿 (𝗕𝗿𝗼𝘁𝘁𝗮𝘀) by Julia Thelin, Sweden, 2018, 16'
𝗫𝗬 by Anna Karín Lárusdóttir, Iceland, 2019, 16'
Copia Tweet
𝗜 (𝗘́𝗴) by Hallfríður Tryggvadóttir, Vala Ómarsdóttir, Iceland, 2018, 15'
𝗤𝘂𝗮𝗿𝘁𝘇 (𝗞𝘃𝗮𝗿𝗰𝗮𝘀) by Odeta Riškutė, Klaudija Matvejevait, Lithuania, 2019, 5'36''
𝑇𝑖𝑐𝑘𝑒𝑡𝑠: 10 € | OV w/ Eng subs. | The venue is barrier-free. | 𝐷𝑎𝑡𝑒: Monday 21.09.20 @ 20:00 - Admission 19:30