No Skin Off My Ass | Visionär Opening Event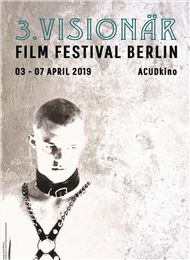 Vorstellung am 03.04.2019
Infos
Kanada 1991
Sprachen(OF): deutsch, englisch, spanisch
Regie: Bruce La Bruce
Drehbuch: Bruce La Bruce
Darsteller: Bruce La Bruce, Caroline Azar, G.B. Jones, Laurel Purvis
73 min
Zur Website des Filmes
IMDb (english)
Visionär Film Festival
+++ Part Two +++
21:00: Homage to Bruce LaBruce with the screening of No Skin Off My Ass.
The film is followed by the Q&A with Jürgen Brüning, producer of the film and director of the Porn Film Festival.
Bruce LaBruce is one of the fathers of queercore, a cultural and social movement that began in the mid-1980s as an offshoot of punk that states its discontent with society's disapproval of the gay, bisexual, lesbian and transgender communities.
We will homage him with the screening of his first and seminal film "No Skin Off My Ass", a low-rent semi-remake of Robert Altman's That Cold Day in the Park - with LaBruce himself taking the Sandy Dennis role.
A punk hairdresser with a skinhead fetish (LaBruce) encounters a handsome, troubled young skinhead sitting on a park bench and manages to lure him back to his apartment, strip him naked and draw him a bath filled with Mr. Bubble.
In what would become the basic LaBrucian template, explicit sex and offbeat comedy intertwine with radical politics, here espoused by the skinhead's sister — played by G.B. Jones.
Shot on grainy Super 8 blown up to 16mm, with LaBruce's exaggeratedly emotive voiceover scoring the action, No Skin Off My Ass is "sweeter than Warhol, subtler than Kuchar, sexually more explicit than Van Sant" (Amy Taubin, The Village Voice). His filmmaking style is marked by a blend of explicitly pornographic depictions of sex with more conventional narrative and filmmaking techniques, as well as an interest in extreme topics which mainstream audiences might dismiss as shocking or disturbing taboos.
Tickets for the opening cost: Part 1: 7,50€ Part 2: 7,50€ Part 1 + Part 2: 12€.