Never Happened
(SKUTOK SA STAL / NIE PASSIERT)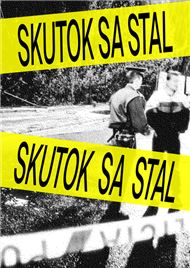 Vorstellungen vom 01.01.2010 bis zum 21.10.2021.
Infos
Tschechische Republik, Slowakei 2019
Sprache(OF): n/a
Regie: Barbora Bereznakova
Drehbuch: Barbora Bereznakova
Darsteller: Tibor Vokoun
82 min
Zur Website des Filmes
Trailer ansehen
IMDb (english)
Film und Gespräch
Investigativer poetischer Dokumentarfilm
Mitte der 90er Jahre wird der Sohn des slowakischen Präsidenten Michal Kováč wird entführt. Der an der Aktion beteiligte Oskar F. setzt sich ab und packt aus, sein Freund Robo stirbt wenig später bei einem Attentat.
Bis heute spaltet der Fall die slowakische Gesellschaft. Als die Involvierung des Geheimdienstes zunehmend offenbar wird, propagiert Premierminister Vladimír Mečiar: All das sei schlichtweg "nie passiert".
Regisseurin Barbora Berezňáková tritt den Gegenbeweis an, findet Fotos, Archivmaterial, Orte des Geschehens und zentrale Beteiligte. Ihr Film bietet gleichzeitig einen emotionalen Zugang und einen innovativen Stil.
______________
DIRECTOR'S STATEMENT
Through personal stories of tree friends evolving in the era of the rise of democracy in post-communist
countries, the film portrays the breaking point of characters in unprecedented situations, and the fight
between justice and evil inside of their minds, using a visually distinct VCR and old footage aesthetics.
Oskar, Robo and Peter were young friends fighting the authoritarian regime of Slovakia's Prime Minister Vladimir Meciar in the 90s. The cases of Robo's violent death and the kidnapping of the President's son remain unresolved until today, setting a terrible precedent, which spreads like dandelion seeds all over the country's mental environment.
The story connects mistakes happening after the Velvet Revolution of 1989 to the present rule of stateapproved mafia in Slovakia, and portrays the timeless vicious circle of political crimes still happening in times of democracy, leading to the murder of investigative journalist Jan Kuciak and his wife in 2018.
ABOUT BARBORA BEREZNAKOVA
After her studies at the Academy of Performing Arts in Bratislava and New York Film Academy, Barbora
started working as freelance documentary filmmaker, creating short documentaries for Public
Broadcaster RTVS and Slovak National Gallery, as well as video-art installations (e.g. VCR projects
Remembering'90, Landing sites & beyond, or Shadows, shown in galleries in Slovakia, USA, Ireland, Brazil etc.).
She stands behind documentary film and trans-media project Ask at home 68/89 (2018/2019), focusing on the impact of historical events of August 1968 and November 1989 on the development of post-communist countries, with the aim to strengthen intergenerational dialogue.
Currently, Barbora finished her feature documentary debut for theatrical distribution Never Happened,
creative documentary investigating the personal experience of individuals involved in political
happenings of the early post-socialist era. She is experimenting with new ways of storytelling and crossgenres in documentary films and developing observational documentary Fragile Game about a fatherdaughter relationship and the boundaries between ambitions and parental love (expected completion: 2021), as well as writing the script to her fiction feature debut.
Filmography
Upcoming: Fragile Game, observational documentary
Upcoming: Ask at home 89, short documentary and trans-media project
2019 Never Happened, creative documentary
2018 Ask at home 68, short documentary
2015 Good Janecko!, short documentary
2014 GEN – Peter Breiner, short documentary
2014 From home to home, short documentary
2012 Life is short, short animation
2011 The Sheep, short fiction
---
Plot: If your past isn't clear, it can catch up to you in the future. The mafia's brutal practices in the Slovak political arena in the 1990s opened the door to recent events.