Mine – The Film will always be you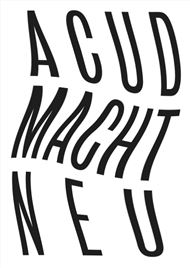 Vorstellung am 14.04.2018
Infos

Sprache(OF): englisch
150 min
Zur Website des Filmes
KARMA LTD EXTENDED zu Gast im ACUDkino
KARMA LTD EXTENDED: MINE – THE FILM WILL ALWAYS BE YOU
MINE – "The Film Will Always Be You"
A film program series curated by artist Abrie Fourie that seeks to explore the myriad ways in which we identify and position our selves.
MINE is a selection of films of mainly South African artists and the diaspora, as well as artists from other parts of the world living in South Africa.
MINE was first shown at Iwalewahaus, University of Bayreuth in 2011. Since then, various iterations of MINE have been shown at DUCTAC Dubai (United Arab Emirates), University of Johannesburg, and University of the Free State (Bloemfontein, South Africa). In 2013 MINE was hosted by MC2a & Novart (Bordeaux) and by Khiasma Paris (France). The Tate Modern London staged a revised version of MINE, titled The Film Will Always Be You: South African Artists On Screen, as part of SA-UK Seasons 2014-2015 in collaboration with Tate curator Zoe Whitley. In 2017 MINE was shown as an exhibition at the Latrobe Regional Gallery (Australia). MINE is an associated project of Modern Art Projects South Africa.

Artists:
Bridget Baker, Dineo Bopape, Jacques Coetzer, Barend de Wet, Teboho Edkins, Neville Gabie, Simon Gush, William Kentridge, Donna Kukama, Michael MacGarry, Nandipha Mntambo, Mohau Modisakeng, Tabita Rezaire, Robin Rhode, Athi-patra Ruga, Berni Searle, Lerato Shadi, Penny Siopis, Gregg Smith, Johan Thom, Minnette Vári

The films opened an enormous door because they gave me a sense that it was possible to work without a program in advance, without first having written a script – a sense that if you work conscientiously and hard, and there is something inside you that is of interest, you yourself will be the film and the film will always be you. – William Kentridge

Part of Transcultural Transience, the second chapter of the curatorial program Karma Ltd Extended @ Acud Macht Neu.
Please make your reservation to karma@acudmachtneu.de