ENCOUNTERS: Decolonizing Perspectives - A conversation with Lemohang Jeremiah Mosese on young African cinema.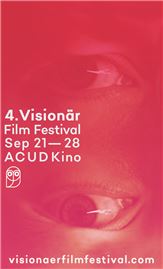 Vorstellung am 26.09.2020
Infos
2020
90 min
Zur Website des Filmes
4. Visionär Film Festival
At Visionär Film Festival we believe that in our times the urgency has come to unlearn and deconstruct our Global North colonizing gaze in order to create the shift of perspective our societies need.
Cinema and debates are powerful tools to build new strategies to enter in communication with different cultures. Therefore we are very honored to host Lesotho director Lemohang Jeremiah Mosese to enter in conversation with us.
Lemohang Jeremiah Mosese is part of a generation of young African directors who are challenging our stereotypes and understanding of African cinema. In conversation with him we will sketch a panorama of contemporary African cinema in order to better understand the different tendencies, topics and narrative strategies that directors are applying. Along with the moderator, the audience is invited to ask questions and engage in a conversation with the director.
Lemohang Jeremiah Mosese is a filmmaker and artist hailing from Lesotho. Traversing various spheres, he has worked as a writer, director, and cinematographer. His video art and short films have traveled extensively, winning awards on the festival circuit.
In 2018 his feature-length essay film Mother, I am Suffocating. This is My Last Film About You, which was selected for Final Cut in Venice, where it won six awards. It went on to premiere in the Berlinale Forum in 2019 and continues to screen at festivals, museums including MoMA. Mosese was one of three filmmakers selected for Biennale College Cinema with his first narrative feature film This Is Not A Burial, It's A Resurrection.
The film screened at The Venice International Film Festival 2019, Sundance Film Festival 2020, where it won a Special Jury Award for Visionary Filmmaking and Rotterdam 2020. Mosese is an alumnus of the Berlinale Talent Campus (2012), Focus Features Africa First (2012), Realness Screenwriting Residency (2017), Final Cut Venice (2018) Venice Biennale Cinema College (2018), and Cannes L'Atelier (2019).
𝑇𝑖𝑐𝑘𝑒𝑡𝑠: FREE ENTRANCE | The talk will take place in English | The venue is barrier-free.