British Shorts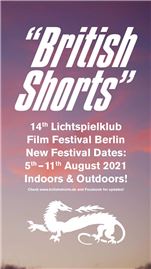 Vorstellung am 06.08.2021
Infos
Großbritannien
Sprache(OF): englisch
100 min
Zur Website des Filmes
14th LICHTSPIELKLUB SHORT FILM FESTIVAL
Fri 6.8. 19:00 - Festival Screening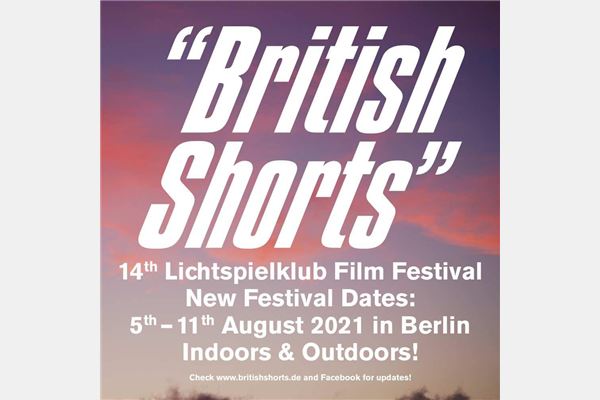 Mandem (Drama), Dir: John Ogunmuyiwa, 10:02
Ein ganz normaler Tag für die Freunde Ty und Malcolm: Sie ziehen durch die Stadt und gehenihren "Geschäften" nach.
Ty and Malcolm go about their daily routine. Just another day for two really good friends conducting
business as usual.
Dog's Life (Comedy/Experimental), Dir: Edoardo Maria Brighenti, 1:30
Eine Katze will ein Hund sein ... 90-Sekunden-Film, gedreht während des Lockdowns in London.
A cat wants to be a dog ... A 90 seconds film shot during lockdown in London.
Caravan (Drama), Dir: William Anderson, 14:00
Nach einer zufälligen Begegnung mit zwei Jungen erweckt ein Farmhelfer Misstrauen in der Nachbarschaft.
An outcast farmhand draws the attention of unwholesome neighbours after a chance encounter with two young boys.
Run (Drama), Dir: Emma Miranda Moore, 12:48
Ständig gemobbt vom älteren Bruder, verbündet sich Charlie mit der viel älteren Lisa (Maddy Hill, "Eastenders").
Charlie, bullied by his older brother, forms an unlikely friendship with Lisa (Maddy Hill, "Eastenders"), an intimidating neighbour.
Shuttlecock (Comedy/Drama), Dir: Tommy Gillard, 13:00
Carls Rivalität mit dem mysteriösen neuen Mitglied seines Badmintonclubs gerät außer Kontrolle.
Carl's obsession with a mysterious member of his badminton club spirals out of control.
No More Wings (Drama), Dir: Abraham Adeyemi, 10:00
Die Kindheitsfreunde Isaac und Jude treffen sich nach Jahren in ihrem Lieblings-Fried-Chicken-Shop in Südlondon.
Lifelong friends Isaac and Jude meet up at their childhood favourite South London fried chicken shop at a divergent point in their lives.
Starboy (Drama), Dir: Joëlle Bentolila, 17:24
Ein junger chassidischer Mann zweifelt an seiner Identität.
A mystical young Hasidic man increasingly doubts his identity.
Trust (Drama/Thriller), Dir: Melanie Light, 12:29
Maria kämpft darum, Kontrolle über ihren Körper zu behalten und reist für eine Abtreibung in eine fremde Stadt.
Unable to legally access abortion at home, Maria must fight a desperate battle to keep control over her own body.
Queerer Than Thou (Comedy), Dir: Kate Jessop, 2:25
Wer ist am queersten von allen? Pilotfolge von "Tales From Pussy Willow".
Who is the queerest of them all? Pilot episode of "Tales From Pussy Willow".
Lonely Cowgirl (Music Video), Dir: Lydia Garnett, 5:25
Musikvideo für die Band Trouble Wanted: Eine queere Romanze in einer Fantasy-Truckerbar.
Music video for the band Trouble Wanted: A queer romance in a fantasy roadside bar!