Best of Animationsprogramm 2017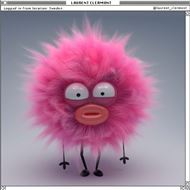 Vorstellungen vom 02.05.2018 bis zum 03.05.2018.
Infos

180 min
Zur Website des Filmes
PICTOPLASMA Festival
OPENING PARTY
#CharacterStareDown Battle | Synth concerts - ACUDMACHTNEU
Screening 'Best of Characters in Motion 2017—Remastered' - ACUDkino
Pictoplasma takes over every level and hidden corner of the ACUD in Mitte, to host a profusion of character-driven happenings, performances, animation screenings, and interactions.
ACUD THEATER challenges you to maintain eye contact at the #CharacterStareDown battle—blinking NOT allowed—while the basement CLUB awaits with a soothing marathon of short synth concerts, presented by Synthstrom Audible. The lovely people from SCHOOL OF MACHINES invite you to a secret costume party guaranteed to break the ice.
Show up early to secure yourself a comfy seat in the second-floor ACUD KINO to time travel back to 2017 and the 'Best of Characters in Motion—Remastered.'