The Chronopolitical in Africanist Science-Fiction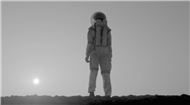 Vorstellung am 07.07.2017
Infos

90 min
Symposium "Asthetiken des Spekulativen"
The Chronopolitical in African Science-Fiction - kommentiertes screening
This film program brings together three short films from the African continent and its diaspora that operate in the realm of the speculative. The films employ different temporal and aesthetic strategies and practices of future fictions - through references to a speculative archive, for example, or the audio-visual method of time travel. This way they not only point to different politics of time (and as such disrupt the seemingly stable dimensions of past, present and future) but also to dreams deferred and the unfinished conversation about the African utopian project.
1) Twaaga
Director: Cedric Ido, 2013, 30 minutes
Language: French/Arabic; English Subtitles
Producer: Jérôme Bleitrach, Production: Arte, Bizibi, Centre National du Cinéma
Burkina Faso in 1987 is a country in the throes of revolution. Manu, an eight-year-old who loves comics, tags along with Albert, his big brother. When Albert decides to undergo a magic ritual to become invincible, Manu realizes there are real powers to rival those of his comic-book superheroes.
2) Homecoming
Director: Jim Chuchu, 2013, 11 minutes
Language: English / Kiswahili, Subtitles: English
Producers: Rebecca Chandler, Wanuri Kahiu, Idil Ibrahim, Executive Producer: Steven Markovitz, Production: Awali Entertainment Ltd
Nothing is what it seems as Max – a nerdy voyeur - turns fiction into truth and the mundane into the unexpected in his quest to get the attention of Alina - the girl next door. The city of Nairobi is threatened with imminent extinction, and now is his chance to save her and verbalise his unspoken desire. However, a mysterious stranger stands in the way of his happiness. Will Max overcome his fear and save the girl? Is Alina looking for a hero? A quirky, light-hearted look at obsession and the desire to be seen.
3) Afronauts
Director: Frances Bodomo, 2014, 14min
Language: English
Producer: Isabella Wing-Davey, Production: Powder Room Films
July 1969. It's the night of the moon landing and a group of exiles in the Zambian desert are rushing to launch their rocket first. They train by rolling their astronaut, 17-year-old Matha Mwamba, down hills in barrels to simulate weightlessness. As the clock counts down to blast off, as the Bantu-7 Rocket looks more and more lopsided, Matha must decide if she's willing to die to keep her family's myths alive.
Kuratiert von Henriette Gunkel im Rahmen von Ästhetiken des Spekulativen Künstlerisch-wissenschaftliches Symposium des DFG-Graduiertenkollegs "Das Wissen der Künste"