Special Program # 1 Focus Georgia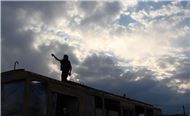 Vorstellung am 19.01.2016
Infos
2015
Zur Website des Filmes
Trailer ansehen
14. Internationales Festival Zeichen der Nacht / Signes de Nuit
Crossroad
Zurab Demetreshvili
Georgia
2013 / 0:17:00
A generation conflict: a hard and insensitive father let his son just one way to express his hopelessness for the future: a cry.
The Precious Thing
Soso Bliadze
Georgia
2012 / 0:28:30
The film is about a beggar boy, who lives in non-functioning trolleybus. His regular begging place is opposite the laptop shop. Every day he stands there watching his beloved red laptop. His life changes when "he's" notebook is bought by a young boy, as a present for his wife.
Queue
Ana Tsimintia
Georgia
2013 / 0:10:00
About forty people wait at the post office stairs to receive their packages from abroad. Lana is not here for the first time, she's trying to get the packages her husband sent from Greece.
Dinola
Mariam Bakacho Khatchvani
Georgia
2013 / 0:14:30
A woman breaks the strict laws of the mountains and chooses a love marriage against her family's will. Just when she is at the top of the world, her beloved husband dies. She is forced to marry the first man who asks for her hand and leave her child.
As if there was a sea
Levan Sikharulidze
Georgia
2012 / 0:13:00
A couple of unconventional young things try to escape from a very hot summer as well as from the society. They have created their own little asylum, where only one thing is missing: the sea.