Short Film Competition # 7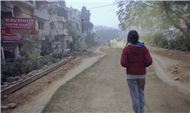 Vorstellung am 20.01.2016
Infos
2015
Zur Website des Filmes
Trailer ansehen
14. Internationales Festival Zeichen der Nacht / Signes de Nuit
Hot Nasty Teen
Jens Assur
Sweden
2014 / 0:39:00
A young teenage girl is being filmed with a basic video camera. The older man, capturing her, asks her to dance. Two months later they are traveling together through small Swedish towns. She wants to go home soon, but he insists that they should go on. After all, they have a few more stops to do.
Not Working Today
Shijie Tan
Singapore
2014 / 0:19:00
One day, an ill-treated foreign worker decides not to work and to seek help at the labour office.
Newborns
Megha Ramaswamy
India
2014 / 0:08:00
Des victimes d'attaques à l'acide nous font partager leur ennui, dans la sphère privée ou publique, au cœur d'une ville impersonnelle, ses usines, ses bâtiments et ses motels - ses promesses non tenues. Un film qui les invite à regarder les autres en face.