Short Film Competition # 6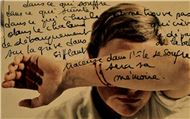 Vorstellung am 20.01.2016
Infos
2015
Zur Website des Filmes
Trailer ansehen
14. Internationales Festival Zeichen der Nacht / Signes de Nuit
The Golden Legend
Olivier Smolders
Belgium
2015 / 0:24:00
Collector of cursed musicians, unreasonable murderers, fairground freaks, paranoid revolutionaries, flatulists and suicidal hermits, a psychiatric patient presents a gallery of the historic figures he is haunted by.
reStart
Olga Osorio
Spain
2015 / 0:14:58
Andrea is trapped in a temporal loop. Will she be able to break it?
Now Eat My Script
Mounira Al Solh
Lebanon
2014 / 0:25:00
"Now Eat My Script is a precipice, a fluid solution in which some spectral noises of the self float adrift. Narration takes the role of a pregnant writer who continuously affirms her hunger and clumsiness towards language and history. Her body is crossed over by both the years to come and the stories that have been buried. As a would-be pirate, she navigates through the tumult of familiar waters. A faltering, yet seemingly omniscient text roams among cities, and between memories that cannot find a proper place, or a proper fiction: After Eight chocolates, children's group showers, a yellow car that resembles a Dodge, or a pigeon rock where men kill themselves become the phantom limbs of the sacrificed visceral body of speech and story telling that surrounds them. Now Eat My Script is about knowing disastrously."
Summer Haunting
Kalpana Subramanian
Switzerland
2014 / 0:05:40
The film is a satirical family portrait of sorts explored through image, movement, space and time. Dream-like the film unfolds, revealing fragments of a dark and broken narrative. Set in a tiny cottage that once happened to be a slaughterhouse, the characters pose like masked actors on stage almost performing for the camera. The idea of family takes on a disturbing and eerie tone as the film progresses.
The Correspondent
Alan King
Australia
2015 / 0:09:00
Overwhelmed with a deep sense of displacement following his child's death, Michael frequently dreams of being submerged in a dark pool waiting for her return. He relies on opiates for solace from his new existence, however the vision of an angel leads him to believe there may be a way home.
DogMe
Faezeh Nikoozad
Germany
2015 / 0:06:00
Everyday when we wake up we part with a totally different life or even a completely different world. The dreams and the pictures we see every night sometimes are easily to be understood and coherent with our daily living. But sometimes they are so complex that a convincing picture or something understandable can not be made from them. We forget most of it and some aspects remain like an incomplete puzzle in our mind.
Conversion: The Guide of Skin Allergy Treatment
Afsaneh Salari
Belgium, Iran
2015 / 0:10:00
How would it be like to live far from home and receive daily news on massacre in Middle-east? Conversion... explores the anxiety and guilts of people who live far from their bloodied homelands in secure Europe.