Reflections Unheard: Black Women in Civil Rights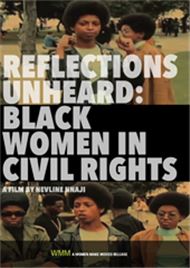 Vorstellung am 19.06.2017
Infos
USA 2014
Sprache(OF): englisch
Regie: Nevline Nnaji
Drehbuch: Nevline Nnaji
Darsteller: N/A
81 min
FSK 12
Zur Website des Filmes
Trailer ansehen
IMDb (english)
Black Lives Matter Berlin präsentiert
Through the personal stories of several former black female Civil Rights activists, Reflections Unheard: Black Women in Civil Rights unearths the lesser-known story of black women's political marginalization between the male-dominated Black Power movement, and the predominantly white and middle class Feminist movement during the 1960s and 70s, as well as the resulting mobilization of black and other women of color into a united Feminist movement.
- Written by Nevline Nnaji
Reflections Unheard was awarded "Best Film on Matters Related to the Black/Marginalized Experience" by the Black International Cinema Berlin Film Festival in 2014.
Nevline Nnaji is a filmmaker, dancer and multi-media artist from Northampton, MA. Her works focus on the internal struggles and transformative experiences of black female characters, using experimental and non-linear storytelling devices in film. She is a founding member the New Negress Film Society, an artist collective and activist space which supports and works by and about black women filmmakers.
Nnaji's first feature-length documentary, Reflections Unheard: Black Women in Civil Rights, first screened with MSNBC show host and Producer, Melissa Harris Perry in 2012 prior to its release. Nnaji currently lives and works in Brooklyn, NY as a filmmaker on her latest project, Genesis of Nine.
This Event is part of #BLMmonth2017 a month long program to connect existing spaces, resources and contacts to organize joint resistance.
Film und Gespräch | Eintritt 5,00 Euro