Documentary Competition # 3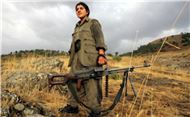 Vorstellung am 21.01.2016
Infos
2015
Zur Website des Filmes
Trailer ansehen
14. Internationales Festival Zeichen der Nacht / Signes de Nuit
North
Bakur
Norden
Cayan Demirel, Ertugrul Mavioglu
Turkey
2015 | 1:32:00
The feature documentary "Bakur" ("North") invites us to an in depth and up close exploration of one of the sides of the undeclared war going on in Turkey for decades, the PKK guerillas. To date, the PKK has lost over 30 thousand of its members in combat against the Turkish State. What is the PKK's perception of the state, justice and authority? What constitutes the foundation of their relationship to the people? How did the Kurdish movement evolve over the years into a battle for freedom founded on the women's rights movement? How do the guerillas who have been living under wartime conditions for 40 years manage to survive all year-round in the harsh outdoor living conditions in the mountains?
In search for answers to all these questions, "Bakur" introduces audience to men and women who have chosen to join the armed resistance in order to create a new future. The film takes the viewer on a visit right to the center of their lives. It witnesses life in three guerilla camps located in three different regions of Kurdish territory within the Turkish borders. Filming took place in the summer and fall months of 2013 in various camps in North and South Kurdistan, primarily in Dersim, Amed and Botan. This was the first time a professional camera had ever accessed these camps. The film lets the viewer to listen to the history of the PKK movement recounted first-hand, it tells the personal stories of the guerillas and we learn their hopes and expectations for the future.
"Bakur" gives audience the metaphorical "keys to the mountains", and invites them to view the PKK from a completely new perspective.